Shake, the new opaque and pigmented paint inks… Try them now!
They are fluid, yet opaque, permanent and resistant on all surfaces! The ink is made with extra-fine pigments.
A selection of 12 colours … the choice was based on the best-selling colours from the pigmented Shake marker range.
No matter what your pictorial technique may be, you can use Shake ink:
directly from its fine tip,
with the help of a brush, or a feather,
with our empty Fill'it markers (with ogival, flat or brush tips),
with an airbrush.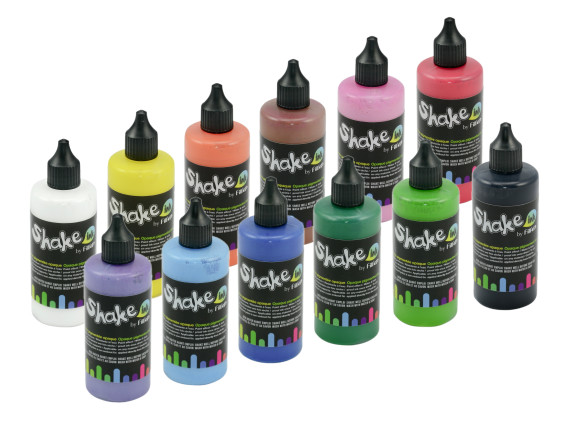 Its assets?
It is an opaque and permanent ink that gives a real paint-like effect.
It's resistant to water and light once it is dry.
It dries quickly.
And above all… it can be used on any kind of surface: canvas, wood, cardboard, paper, metal, textile etc.
Let your creativity flow freely!
_
100 ml bottle
Available in 12 colours: white, yellow, orange, brown, pink, red, purple, light & dark blue, light & dark green and black.
The permanent Shake ink colour chart is equivalent to the Graph'it Shake markers, and has the same creative properties.