What is a screen stone ? Screen stones are sheets of black and grey patterns designed to be applied on a manga comic book. Because the inside pages of manga are in black and white, the screen stones allow illustrators to create shades textures and depth on backgrounds and characters.
In Japan, screen stones must be cut with precision knives, then glued or taped on the page.
GRAPH'IT screen stones transfers allow you to create graphic effects and shadows with ease! Find out how to use them with this video tutorial from illustrator Virginie Siveton !
An innovative easier to use screen stone
GRAPH'IT transfer screen stones are different from "classic" manga screen stones. GRAPH'IT has made them easier to use by reinventing the dry transfer concept of the old dry transfer letters that were used before personal computers and printers. A simple friction is all it takes for the pattern to be transferred on the paper.. Easy to apply, the pattern is transferred by rubbing the back of the sheet with a ballpoint pen.
How to use GRAPH'IT transfer screen stones
Step 1 : First, place the screen on your drawing, on the area where you want to apply the pattern.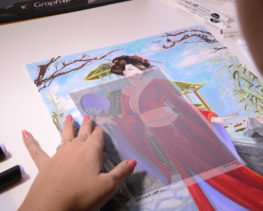 Step2 : Then rub the area you want to transfer the screen stone with a ballpoint pen. Start with the outline, then cover the entire surface.
Here, Virginie Siveton wants to apply texture to the geisha's fan.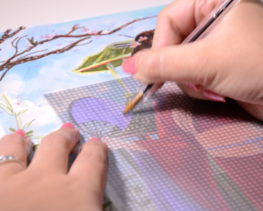 Step 3 : Lift a corner of the screen stone with one hand while keeping it in place with the other. This will allow you to check where the screen stones have already been applied and where they shill need to be transferred. Place the sheet back on the drawing and continue penciling.
Step 4 : Finally, lift the sheet and enjoy the result! If you have transferred beyond the area that you were targeting, just use a blender alcohol marker to correct the mistake, the transparent ink will remove the pattern.
These screen stones transfer are ideal for adding shadows, textures or patterns to a drawing! Simple and fast in their use, GRAPH'IT Transfer screen stones will allow you to create manga effects like the pros!
When you are finished, ensure perfect adhesion of the pattern, simply place the included protecting sheet on the drawing and press firmly with an instrument with a rounded edge, such as the back of a ballpoint pen.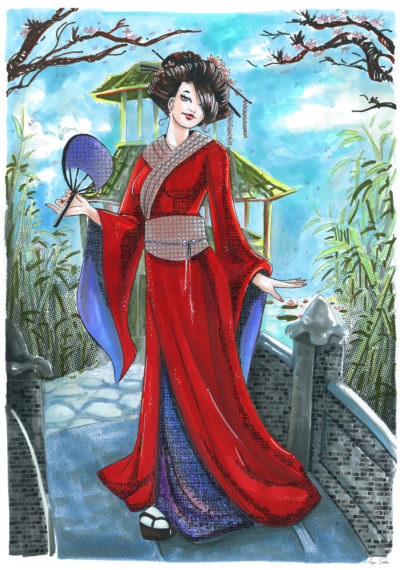 Transfer screen stones can be reused as many times as there are patterns left to transfer.
They are also compatible with alcohol markers GRAPH'IT Markers and GRAPH'IT Brush.
The GRAPH'IT Transfer range offers 8 different screen stones models :

Find out where to buy GRAPH'IT Transfer !