Discover the 15 sets of 3 markers from the Graph'it range, including 3 new ones!
Sets of 3 markers make gradients easier. Ideal for beginners or advanced. No need to look for the next exact shade in the color chart!
Perfect for shade work, these 15 sets open up many possibilities.
3 news sets in 2015 :
Set Cool Greys : Cool Greys 2, 3 and 6
Set Warm Greys : Warm Greys 1, 3 and 7
Set Neutral Greys : Neutral Greys 1, 2 and 4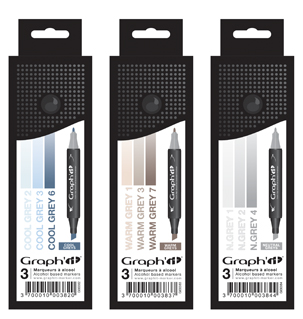 The other 12 sets :
Set Black & White : Blender, Neutral Grey 5 et Black
Set Sunny : Citrine, Banana et Mimosa
Set Vitamin : Apricot, Mango et Halloween
Set Hair : Honey, Tobacco et Teak
Set Skin : Flannel, Cotton et Skin
Set Blush : Nude, Organza et Peach
Set Candy : Silk, Princess Rose et Camelia
Set Romantic : Powder, Antik Pink et Plum
Set Passion : Coral, Tomato et Ruby
Set Fresh : Antartic, Fresh Mint et Turquoise
Set Everest : Sky, Celestial et Lapis
Set Nature : Pistachio, Lime et Tuscany